Dalia (Cracked Wheat) with Chicken and Roasted Bell Pepper
Dalia is usually prepared for breakfast, mostly in the form of Khichdi. I find it difficult to find couscous in Vizag so I substitute it with cracked wheat also called dalia. For Nehal's dinner I prepared a Dalia recipe with Moroccan flavors. It makes for a light, flavorful, quick, one pot healthy food for kids.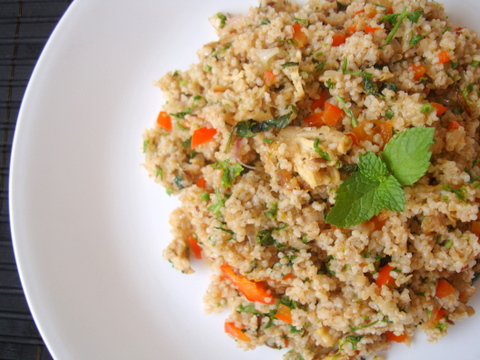 Dalia with Chicken and Roasted Bell Pepper
Dalia Recipe with Chicken and Roasted Bell Pepper
Prep & Cooking: 20-30 mts
Serves – 2 persons
Cuisine: Moroccan
.
Ingredients:
1 cup couscous or cracked wheat/dalia, lightly roast in a tsp of ghee or butter for 3 mts on low flame
1 cup hot chicken stock or vegetable stock
1/2 cup cooked shredded chicken
1 red bell pepper, roasted, peeled and cut into pieces
1/2 tsp red chili powder or paparika
1/2 tsp roasted cumin powder
1 tbsp roasted sesame powder
2 cloves crushed garlic
10-12 mint leaves finely chopped
1 tbsp finely chopped fresh coriander leaves
1/2 tbsp butter
salt to taste
1 Add a cup of hot chicken or vegetable stock to a cup of roasted couscous or dalia. Cover and keep aside for 7-8 mts. After 8 mts, use a fork to fluff the dalia into a loose mixture.
2 Heat butter in a pan, add the garlic and saute for a minute. Add the shredded chicken and saute for 3 mts.
3 Add the roasted bell pepper pieces, cumin powder, paprika and salt. Mix well. Add roasted sesame seeds powder and mix.
4 Add coriander leaves, mint leaves and dalia and mix. Saute for 3 mts. Turn off heat.
5 Garnish with mint leaves and serve Dalia with Chicken and Roasted Bell Peppers warm.
By sailu • Sep 23rd, 2011 • Category: All Recipes for Kids, Breakfast Recipes for Kids, Chicken Recipes for Kids, Dinner Recipes for Kids